Y la mejor serie del año es... Juego de Tronos (otra vez)
Los Premios Emmy dan su veredicto y eligen a JdT por delante de Homeland, Mr. Robot, House of cards...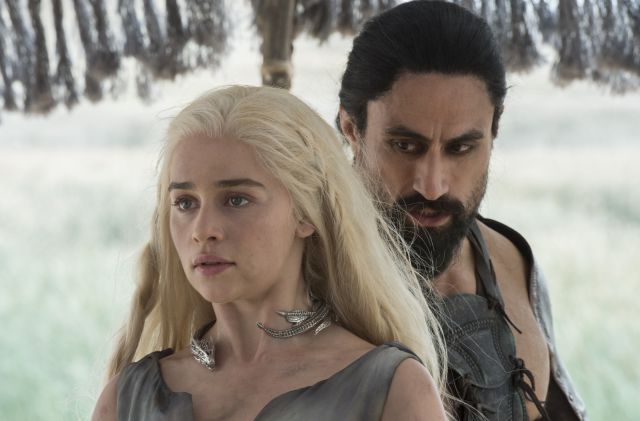 La celebración en la madrugada del lunes de los Emmy Awards dejó pocas caras de sorpresa y el mismo titular que en 2015. Los principales premios que otorga la industria televisiva de EE UU volvieron a escoger, un año más, a Juego de Tronos como la mejor serie del año y a Veep como la mejor en comedia.

La ficción protagonizada por Emilia Clarke y Kit Harington se alzó sobre otras series veneradas de la tele y servicios en streaming, como Homeland, The Americans, House of cards, Downton Abbey, Mr. Robot o Better call Saul. Además, obtuvo el Emmy a mejor guion y mejor direccion de una serie de drama.
En la categoría de Mejor serie de Comedia, Veep brilló sobre Modern Family o Master of None.
¿Anécdotas? Entre otras, la ausencia de Beyoncé de la gala, que dejó una legión de fans decepcionados, tanto porque no acudió, como porque no ganó el premio al que estaba nominada, mejor dirección en programa de variedades por el especial Lemonade. Y, cómo no, las correspondientes bromas en Internet.
Hubo otros muchos momentos en la ceremonia que dejaron rastro en las redes en forma de memes. Y que hemos resumido aquí.
Mira a continuación las principales categorías del palmarés, con los nominados y los ganadores finales. ¿Estás de acuerdo con el criterio de los premios?
Mejor serie de drama
Ganadora: Juego de Tronos
The Americans
Better Call Saul
Downton Abbey
Homeland
House of Cards
Mr. Robot
Mejor serie de comedia
Ganadora: Veep
Black-ish
Master of None
Modern Family
Transparent
Silicon Valley
Unbreakable Kimmy Schmidt
Mejor miniserie
Ganadora: The People v. O.J. Simpson: American Crime Story
American Crime
Fargo
The Night Manager
Roots
Mejor TV Movie
Ganadora: Sherlock: The Abominable Bride
Very Murray Christmas
All The Way
Luther
Confirmation
Mejor 'Reality-Show'
Ganadora: The Voice
The Amazing Race
American Ninja Warrior
Dancing With The Stars
Project Runaway
Top Chef
Mejor actor de comedia
Ganadora: Jeffrey Tambor (Transparent)
Anthony Anderson (Black-ish)
Aziz Ansari (Master of None)
Will Forte (El último hombre en la Tierra)
William H. Macy (Shameless)
Thomas Middleditch (Silicon Valley)
Mejor actriz de comedia
Ganadora: Julia Louis Dreyfus (Veep)
Jeffrey Tambor (Transparent)
Ellie Kemper (Unbreakable Kimmy Schmidt)
Laurie Metcalf (Getting On)
Traceye Ellis Ross (Black-ish)
Amy Schumer (Inside Amy Schumer)
Lily Tomlin (Grace & Frankie)
Mejor actor de drama
Ganador: Rami Malek (Mr. Robot)
Kyle Chandler (Bloodline)
Bob Odenkirk (Better Call Saul)
Matthew Rhys (The Americans)
Liev Schreiber (Ray Donovan)
Kevin Spacey (House of Cards)
Mejor actriz de drama
Ganadora: Tatiana Maslany (Orphan Black)
Claire Danes (Homeland)
Viola Davis (Cómo defender a un asesino)
Taraji P. Henson (Empire)
Keri Rusel (The Americans)
Robin Wright (House of Cards)
Mejor actor secundario de comedia
Ganador: Louie Anderson (Baskets)
Andre Braugher (Brooklyn Nine-Nine)
Keegan-Michael Key (Key and Peele)
Ty Burrel (Modern Family)
Tituss Burgess (Unbreakable Kimmy Schmidt)
Tony Hale (Veep)
Matt Walsh (Veep)
Mejor actriz secundaria de comedia
Ganadora: Kate McKinnon (Saturday Night Live)
Niecy Nash (Getting On)
Allison Janney (Mom)
Judith Light (Transparent)
Gaby Hoffman (Transparent)
Ana Chlumsky (Veep)
Mejor actor secundario de drama
Ganador: Ben Mendelsohn (Bloodline)
Jonathan Banks (Better Call Saul)
Peter Dinklage (Juego de Tronos)
Kit Harington (Juego de Tronos)
Michael Kelly (House of Cards)
Jon Voight (Ray Donovan)
Mejor actriz secundaria de drama
Ganadora: Maggie Smith (Downton Abbey)
Maisie Williams (Juego de Tronos)
Lena Headey (Juego de Tronos)
Emilia Clarke (Juego de Tronos)
Maura Tierney (The Affair)
Constance Zimmer (UnReal)
Mejor actriz de miniserie o TV Movie
Ganadora: Sarah Paulson (The People v. O.J. Simpson: American Crime Story)
Kirsten Dunst (Fargo)
Felicity Huffman (American Crime)
Audra McDonald (Lady Day at Emerson's Bar & Grill)
Lili Taylor (American Crime)
Kerry Washington (Confirmation)
Mejor actor de miniserie o TV Movie
Ganador: Courtney B. Vance (The People v. O.J. Simpson: American Crime Story)
Bryan Cranston (All The Way)
Benedict Cumberbatch (Sherlock: The Abominable Bride)
Idris Elba (Luther)
Tom Hiddleston (The Night Manager)
Cuba Gooding Jr. (The People v. O.J. Simpson: American Crime Story)
Mejor actriz secundaria de miniserie o TV Movie
Ganadora: Regina King (American Crime)
Melissa Leo (All The Way)
Sarah Paulson (American Horror Story: Hotel)
Kathy Bates (American Horror Story: Hotel)
Jean Smart (Fargo)
Olivia Colman (The Night Manager)
Mejor actor secundario de miniserie o TV Movie
Ganador: Sterling K. Brown (The People v. O.J. Simpson: American Crime Story)
Jesse Plemons (Fargo)
Bokeem Woodbine (Fargo)
Hugh Laurie (The Night Manager)
David Schwimmer (The People v. O.J. Simpson: American Crime Story)
John Travolta (The People v. O.J. Simpson: American Crime Story)
Mejor actriz invitada en drama
Ganadora: Margot Mantindale (The Americans)
Laurie Metcalf (Horace and Pete)
Ellen Burstyn (House of Cards)
Molly Parker (House of Cards)
Alison Janney (Masters of Sex)
Carrie Preston (The Good Wife)
Mejor actor invitado en drama
Ganadora: Hank Azaria (Ray Donovan)
Max Von Sydow (Juego de Tronos)
Mahedshala Ali (House of Cards)
Paul Sparks (House of Cards)
Rege Cathey (House of Cards)
Michael J. Fox (The Good Wife)
Mejor actriz invitada en comedia
Ganadoras: Tina Fey y Amy Poehler (Saturday Night Live)
Melissa McCarthy (Saturday Night Live)
Amy Schumer (Saturday Night Live)
Christine Baranski (The Big Bang Theory)
Laurie Metcalf (The Big Bang Theory)
Melora Hardin (Transparent)
Mejor actor invitado en comedia
Ganadora: Peter Scolari (Girls)
Tracy Morgan (Saturday Night Live)
Larry David (Saturday Night Live)
Bob Newhart (The Big Bang Theory)
Bradley Wihtford (Transparent)
Martin Null (Veep)
Mejor guion en drama
Ganador: Juego de Tronos, 'Battle of the Bastards' (David Benioff and D.B. Weiss)
Downton Abbey, 'Episode 8' (Julian Fellowes)
Mr. Robot, 'eps1.0_hellofriend.mov' (Sam Esmail)
The Americans, 'Persona Non Grata' (Joel Fields and Joe Weisberg)
The Good Wife, 'End' (Robert King and Michelle King)
UnREAL, 'Return' (Marti Noxon and Sarah Gertrude Shapiro
Mejor guion en comedia
Ganador: Master of None, 'Parents' (Aziz Ansari and Alan Yang)
Catastrophe, 'Episode 1' (Rob Delaney and Sharon Horgan)
Silicon Valley, 'Founder Friendly' (Dan O'Keefe)
Silicon Valley, 'The Uptick' (Alec Berg)
Veep, 'Morning After' (David Mandel)
Veep, 'Mother' (Alex Gregory and Peter Huyck)
Mejor guion en miniserie o TV Movie
Ganador: The People v. O.J. Simpson: American Crime Story, 'Marcia, Marcia, Marcia' (D.V. DeVincentis)
Fargo, 'Palindrome' (Noah Hawley)
Fargo, 'Loplop' (Bob DeLaurentis)
The Night Manager (David Farr)
The People v. O.J. Simpson: American Crime Story, 'From the Ashes of Tragedy' (Scott Alexander and Larry Karaszewski)
The People v. O.J. Simpson: American Crime Story, 'The Race Card' (Joe Robert Cole)
Mejor dirección en drama
Ganador: Miguel Sapochnik (Juego de Tronos, 'Battle of the Bastards')
Michael Engler (Downton Abbey, 'Episode 9')
Jack Bender (Juego de Tronos, 'The Door')
Lesli Linka Glatter (Homeland, 'The Tradition of Hospitality')
Steven Soderbergh (The Knick, 'This Is All We Are')
David Hollander (Ray Donovan, 'Exsuscito')
Mejor dirección en comedia
Ganador: Jill Solloway (Transparent, 'Man on the Land')
Aziz Ansari (Master of None, 'Parents')
Mike Judge (Silicon Valley, 'Founder Friendly')
Alec Berg (Silicon Valley, 'Daily Active Users')
David Mandel (Veep, 'Kissing Your Sister')
Chris Addison (Veep, 'Morning After')
Dale Stern (Veep, 'Mother')
Mejor guion en miniserie o TV Movie
Ganadora: Susanne Bier (The Night Manager)
Jay Roach (All the Way)
Noah Hawley (Fargo, 'Before the Law')
Anthony Hemingway (The People v. O.J. Simpson: American Crime Story, 'Manna From Heaven')
Ryan Murphy (The People v. O.J. Simpson: American Crime Story, 'From the Ashes of Tragedy')
John Singleton (The People v. O.J. Simpson: American Crime Story, 'The Race Card')


---